Pro AV Catalog
Manufacturers
PRODUCT CATEGORIES
Matching Keywords
Model Numbers
Meyer Sound Announces 21st Century Audio for Repurposed 14th Century Leiden Church
Posted on Thursday, May 4, 2017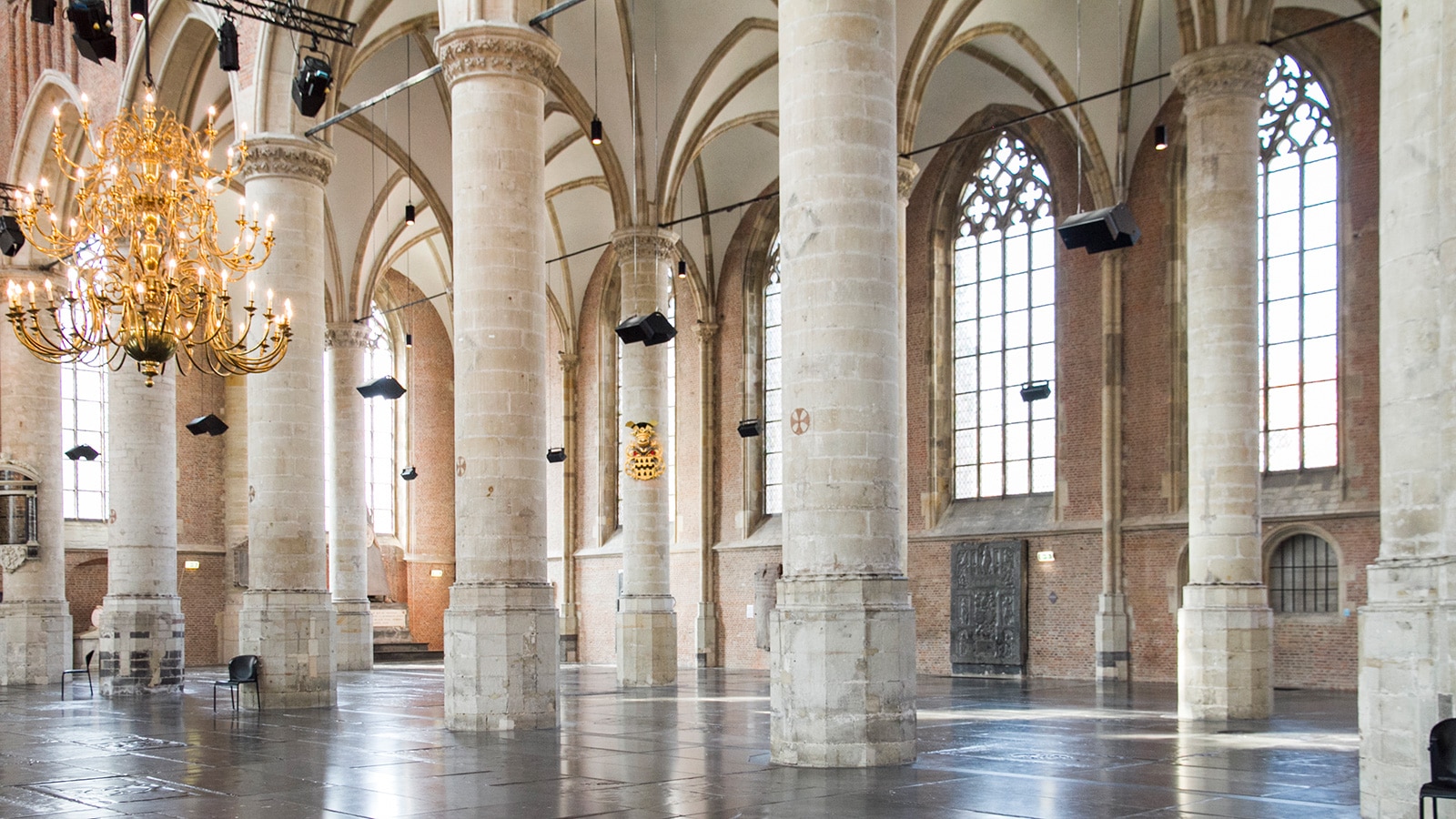 A Meyer Sound system comprising 36 self-powered loudspeakers and integrated AVB audio networking has been installed in Pieterskerk, a 14th century gothic cathedral in Leiden, the Netherlands, now repurposed as a community events center. The scope and intent of the project as announced by Pieterskerk Leiden Managing Director Frieke Hurkmans and Eric Mattijsen of Audio Electronics Mattijsen (AEM), Meyer Sound's Dutch distributor and the system integrator chosen for the project.
"I know Meyer Sound is always looking to develop long-term relationships by providing the highest quality products and support," said Hurkmans. "At Pieterskerk Leiden we take a similar approach in striving for excellence, which means we take corporate social responsibility seriously both in restoration of our historic structure and in our business practices. This shared philosophy makes Meyer Sound the perfect partner for upgrading our audio capabilities."
Built more than 500 years before the invention of the PA system, Pieterskerk poses obvious acoustical challenges for effective sound reinforcement – a situation compounded by the need for exceptional flexibility in reconfiguring the system for various events.
"Large, reverberant rooms are always a challenge, especially if you want the high levels and excellent speech intelligibility specified by Pieterskerk," says Mattijsen. "Also, they have five different set-up configurations for the space, which means five different sound source locations. The best solution by far was the CAL beam steering loudspeaker working with an instantly reconfigurable distributed system of small, self-powered loudspeakers."
The completed installation features a CAL 32 column array loudspeaker with advanced digital beam steering, two UPM-1P and two UPJunior loudspeakers, plus 12 UPJunior-XP and 20 UPM-1XP IntelligentDC loudspeakers. Meyer Sound's exclusive IntelligentDC technology, employing remote 48 VDC power supplies, combines the installation ease of low voltage systems with the sonic superiority of self-powered, bi-amplified loudspeakers. A Galileo GALAXY network platform will be programmed by AEM to handle signal processing and matrixing for the various system configurations.
"The venue has been setting up a mobile system for every event, which is time-consuming and costly for labor," notes Mattijsen. "With the new Meyer Sound system, they can set up the optimum system configuration with the touch of a button on a touchscreen and it will be ready to go, tailor-made for the occasion."
The Pieterskerk project was first announced at ISE in Amsterdam by Hurkmans and Mattijsen along with Meyer Sound co-founders John and Helen Meyer.
Situated in the heart of Leiden, about 35 km southwest of Amsterdam, Pieterskerk was built over a period of 180 years beginning in 1390. A Dutch national heritage site, it was deconsecrated in 1974 and is now operated by a non-profit foundation.
You must be logged in to add more than four items to your comparison list.
Register today!
With a free My-iQ account, you'll be able to keep track of the latest updates and event notifications from your favorite AV manufacturers, manage your own projects and discover new pro-AV products.
Thank you!
Someone will be in touch with you shortly.
McCann Systems
290 Fernwood Avenue
Edison, NJ 08837
USA
1-888-414-3806
www.mccannsystems.com
Request more information from a dealer near you
Request more information from a dealer near you