Pro AV Catalog
Manufacturers
PRODUCT CATEGORIES
Matching Keywords
Model Numbers
The Band's Visit Leads Parade of Broadway Productions with Meyer Sound Systems
Posted on Monday, July 2, 2018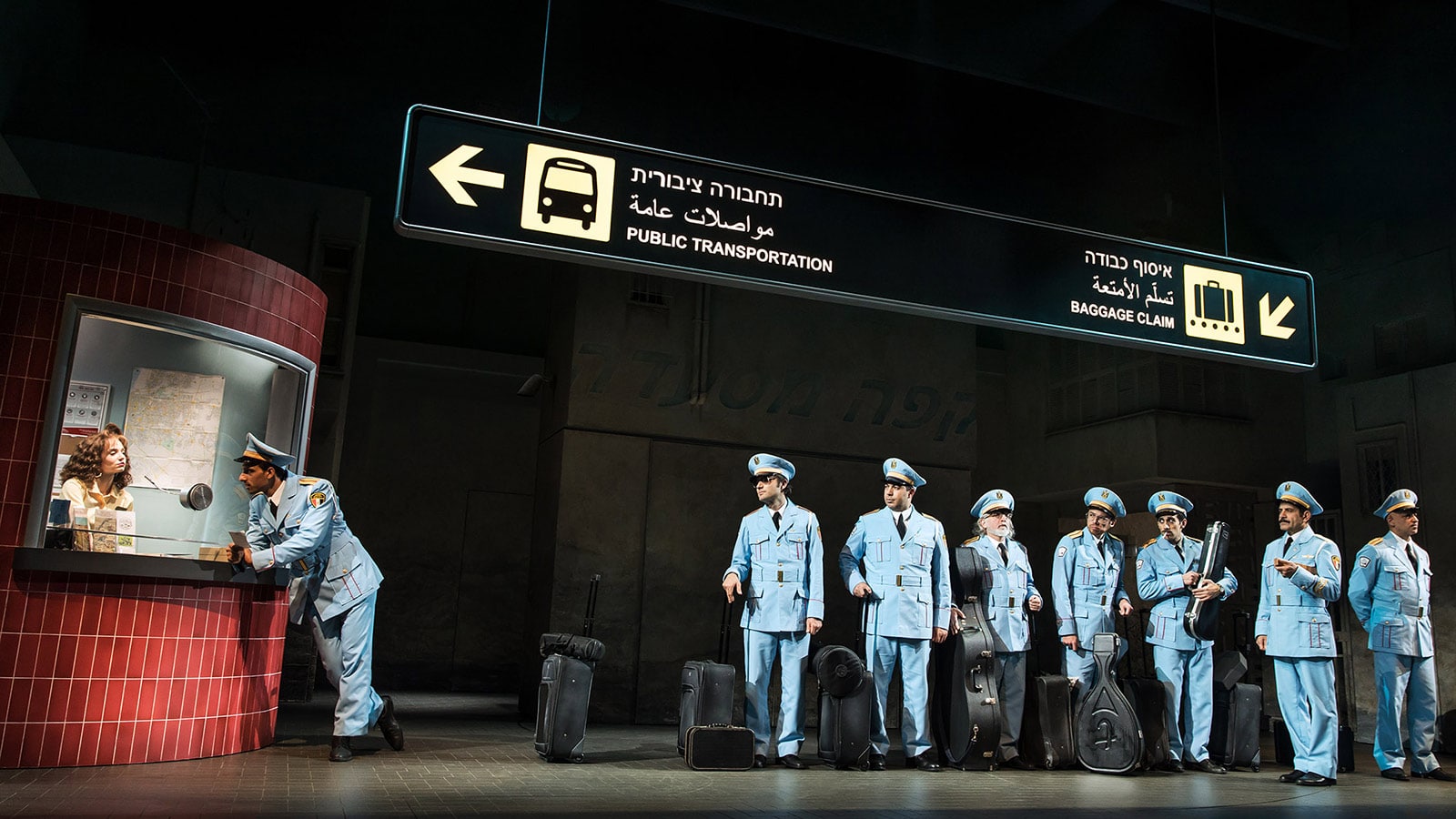 Once again Meyer Sound systems are powering the music along the Great White Way, with top-grossing hit productions relying on LEO Family line arrays and UltraSeries loudspeakers. Following the Tony Awards ceremonies in early June, certainly the most celebrated of the current group – recipient of an astonishing ten awards – is the subtly engaging new musical, The Band's Visit.
"I'm thrilled with the success of the show," says sound designer Kai Harada, awarded the Tony for Best Sound Design in a Musical. "It's what I would call a 'chamber musical' without the flashiness of a typical Broadway musical. Two groups of people meet and end up making emotional connections over the course of a night through simple encounters and through music. The audience gets carried along on the same journeys and discoveries. I'm proud the show has found such success."
The show's story line revolves around an Egyptian ceremonial police band that makes a wrong turn and ends up a day early in the wrong town. Uplifted by the music of composer David Yazbek, The Band's Visit weaves a tale of bittersweet human longing that has left the critics raving.
To create a sonic palette with both intimacy and power in the 1,100-seat Ethel Barrymore Theatre, Harada devised a multi-layered system incorporating more than 135 Meyer Sound loudspeakers, ranging from hefty 600-HP subwoofers down to palm-sized MM-4 miniature loudspeakers. Projecting a clear throw to the rear of the house are compact LINA line array loudspeakers, the newest and smallest of Meyer Sound's LEO Family.
"I prefer Meyer Sound loudspeakers because of the linearity across different volume levels and the wide range of sizes and shapes available," says Harada. "I've been using them for many years and I know what to expect when I turn them on. The sound quality is unsurpassed, as is the support from the factory."
Regarding the new LINA arrays, with seven per side for mezzanine and balcony coverage, Harada adds, "The LINAs are perfectly sized for a Broadway proscenium where sightlines or obstructions are always dictating where we can rig our loudspeakers. Their power-to-size ratio is amazing, the linearity is second-to-none, they are very musical, and they cover the area exactly as needed."
Harada's sound design struck a delicate balance between a more 'traditional' approach for voices and an unseen (under the stage) orchestra while on-stage instruments and effects are given more specific localization using DSP spatialization and hidden on-stage loudspeakers. To make sure all the sounds would move and blend seamlessly, Harada specified a complex system employing eight different Meyer Sound UltraSeries loudspeaker models – 60 all told – along with 33 tiny MM-4 loudspeakers. The deep bass octaves and low frequency effects are supplied by UMS-1P (6), USW-1P (3) and 600-HP (2) subwoofers while the main center array comprises 18 M1D line array loudspeakers.
Assisting Harada in the sound design was his associate, Josh Millican, with production sound team at the theatre headed by Liz Coleman (mixing on the Studer Vista 5 console), Charlie Grieco and Phil Lojo.
Other current, top-grossing Broadway shows deploying Meyer Sound LEO Family line arrays, with sound designers noted parenthetically, include Dear Evan Hansen (Nevin Steinberg), School of Rock (Mick Potter) and Frozen (Peter Hylenski).
Three new Broadway productions utilizing Meyer Sound LEOPARD line arrays, either opening this summer or arriving in the fall, are Head Over Heels (Kai Harada), Moulin Rouge and King Kong (both Peter Hylenski).
Long-running Broadway success stories with Meyer Sound legacy systems include Kinky Boots (John Shivers) and the unstoppable Wicked (Tony Meola), now in its 15th year on Broadway and ranking as the #2 highest-grossing Broadway musical of all time.
You must be logged in to add more than four items to your comparison list.
Register today!
With a free My-iQ account, you'll be able to keep track of the latest updates and event notifications from your favorite AV manufacturers, manage your own projects and discover new pro-AV products.
Thank you!
Someone will be in touch with you shortly.
McCann Systems
290 Fernwood Avenue
Edison, NJ 08837
USA
1-888-414-3806
www.mccannsystems.com
Request more information from a dealer near you
Request more information from a dealer near you