Pro AV Catalog
Manufacturers
PRODUCT CATEGORIES
Matching Keywords
Model Numbers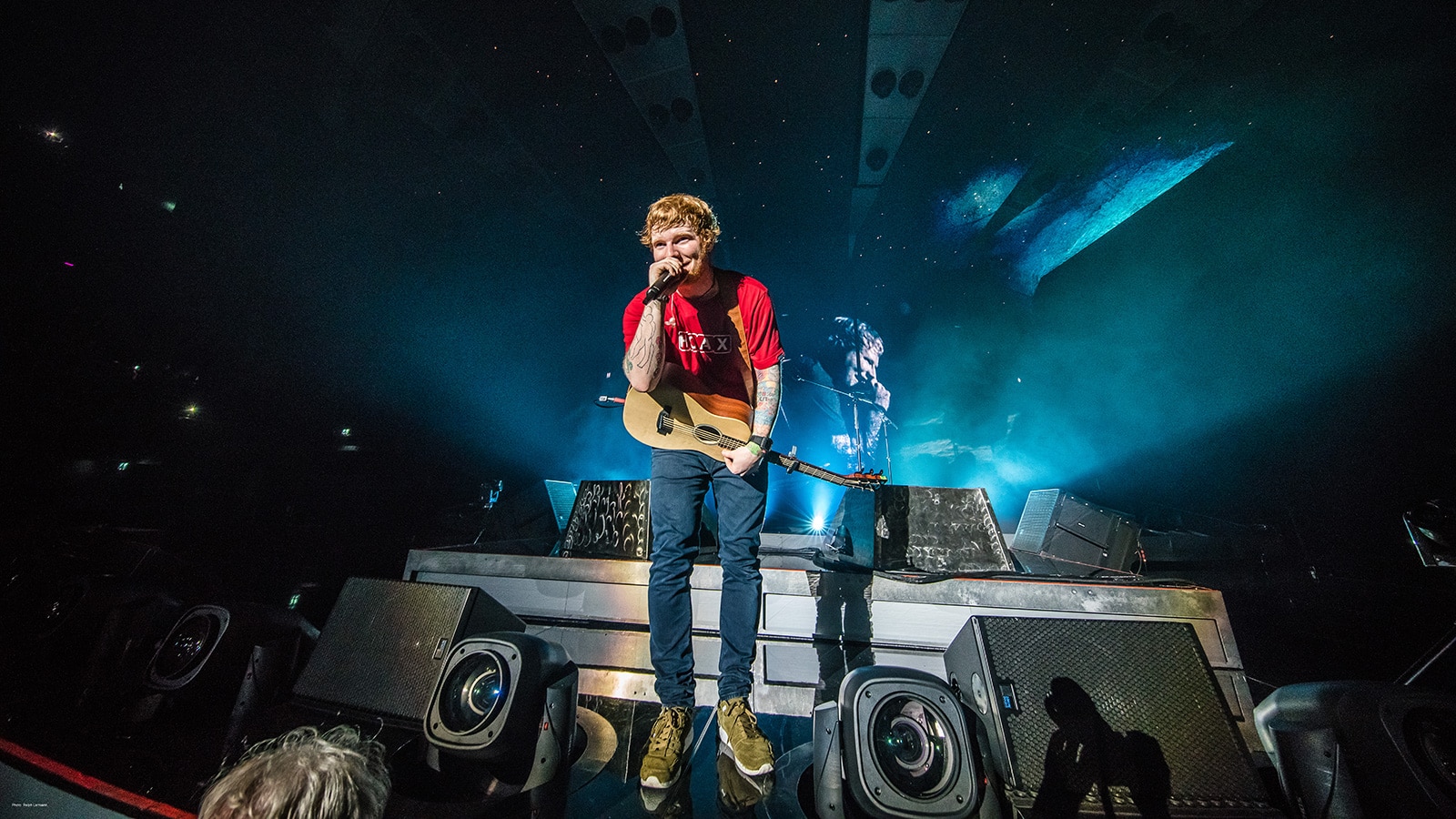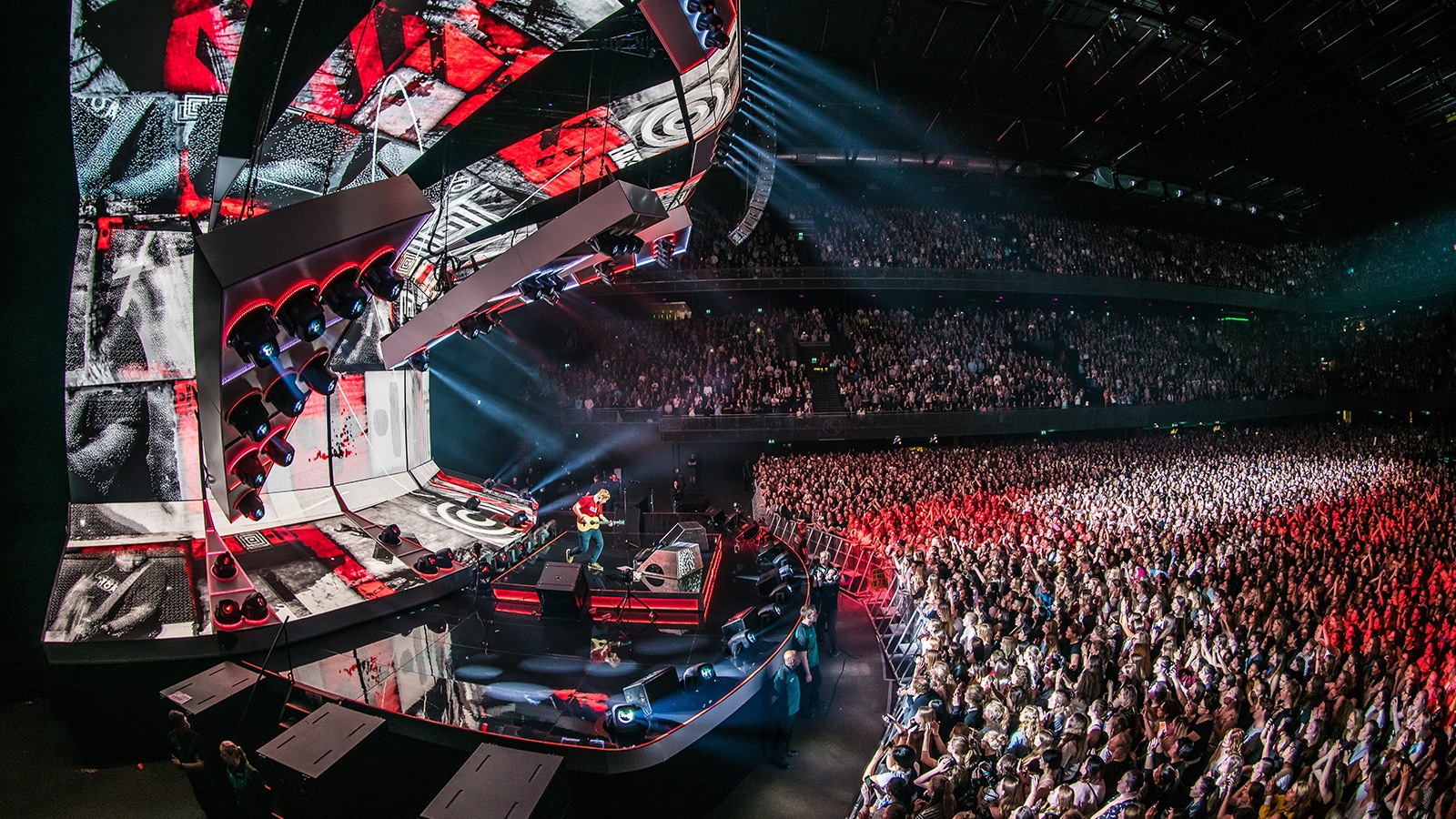 With his effervescent hit "Shape of You" topping the charts across dozens of countries, Ed Sheeran continues to single-handedly conquer the world of pop music. Now in the midst of a three-continent, 108-show ÷ ("Divide") Tour, Sheeran takes to a stage unaccompanied by bands, backup singers, dancers or orchestras. Supported only by his acoustic guitar and a custom loop pedal, Sheeran relies solely on his infectious music and an innocently electrifying persona to sell out cavernous A-level arenas months in advance.
Though working solo onstage, Sheeran is ably supported by an offstage crew headed by production manager and FOH engineer Chris Marsh, who has held both posts since the earliest arena-touring days. Also on board, at Marsh's behest and for the fifth consecutive year, is a Meyer Sound LEO® Family linear reinforcement system supplied by UK-based Major Tom, Ltd.
"Ed pretty much entrusted production to me since the beginning of our relationship," says Marsh, "and one thing that we've proven over the past four years is that the Meyer Sound LEO Family is the way forward."
As FOH engineer, Marsh depends on the system's long throw and uniform response. "Consistency is absolutely key with Ed, and with the Meyer system I am entirely confident it will sound the same everywhere. For example, in Barcelona, where it was a 105-meter throw to the back seats, it sounded the same there as at front-of-house."
Wearing his production manager hat, Marsh also appreciates how LEO Family's rigging accommodates the tour's up-tempo schedule: "My guys load in the PA and it's up and out of the way inside an hour, and it's loaded and on its way in forty minutes."
In most respects the main Meyer Sound system is similar to past tours, with a couple exceptions to deal with managing bass frequencies.
"As production manager, I was able to specify a stage only 40-feet wide," he says. "That's plenty of room for Ed, but it gave us space to place end fire arrays with three by three stacks of 1100-LFC [low-frequency control elements] at either end. With Ed, I need frequencies around 50 Hz to be really punchy and uniform everywhere, and this design works extremely well with the 1100-LFC. They are fast and responsive where some other subs can get slow and 'phasey' in that region."
Another departure for this tour is running the main arrays full range, rather than splitting bass off into a separate aux send. "I've discovered that letting the LEO boxes go all the way down really assists in delivering a tighter low end consistently around the auditorium."
The tour's typical configuration comprises twin front line arrays of 14 LEO loudspeakers flown over four LYON™ loudspeakers, with extended wide-angle coverage provided by - per side - 16 MILO® line array loudspeakers and eight LEOPARD™ compact linear line array loudspeakers. Twelve flown 1100-LFC low-frequency control elements supplement the 18 in the end-fire floor arrays, and eight UPA-1P loudspeakers supply front fill. The rig is optimized before each show by Major Tom System Engineer Charley Alvin, another veteran of multiple Sheeran tours.
Foldback on stage is via MJF-212A stage monitors augmented by two 900-LFC low-frequency control units, while at FOH Marsh listens in the nearfield with a pair of Amie monitors.
Although the relatively new LEOPARD arrays play a secondary role in the current arena tour, Marsh has found them a welcome addition. "I'm blown away by what comes out of such a little box," he remarks. "Last year we did private charity shows with Ed in smaller, conference hall venues using LEOPARD as the mains in ground-stacks. They were phenomenal, and perfectly matched to the 900-LFC."
At FOH, Marsh mixes behind a DiGiCo SD7 console supplemented by an Avalon VT-737 input channel for vocal plus a pair of Bricasti M7 reverb units, one each for vocal and guitar. Ed's primary vocal mic is a Sennheiser 9000 Series with a 9235 condenser capsule, while a secondary 9000 mic - expressly for vocal loop-building - is equipped with a 945 dynamic capsule.
Working with Sheeran has been a dizzying ascent for Marsh, a situation he finds gratifying if somewhat perplexing. "I'm still impressed every day that we're selling out these huge venues," he says, "but we don't take it for granted. We are trying our best to give audiences the same exciting and intimate-feeling experience as when Ed was still out trying to prove himself. We have that same energy, though now it's not trying to impress people but rather demonstrate that they were right to be impressed in the first place."
The ÷ Tour launched in Turin, Italy on March 16 and, after winding across Europe (34 shows), Latin America (14) and North America (60), finally wraps up - barring extensions - in Nashville on October 7.
You must be logged in to add more than four items to your comparison list.
Register today!
With a free My-iQ account, you'll be able to keep track of the latest updates and event notifications from your favorite AV manufacturers, manage your own projects and discover new pro-AV products.
Thank you!
Someone will be in touch with you shortly.
McCann Systems
290 Fernwood Avenue
Edison, NJ 08837
USA
1-888-414-3806
www.mccannsystems.com
Request more information from a dealer near you
Request more information from a dealer near you