Pro AV Catalog
Manufacturers
PRODUCT CATEGORIES
Matching Keywords
Model Numbers
Meyer Sound LINA and LEOPARD Clearly Favored for National Theatre's "Transcendent" Follies
Posted on Wednesday, January 31, 2018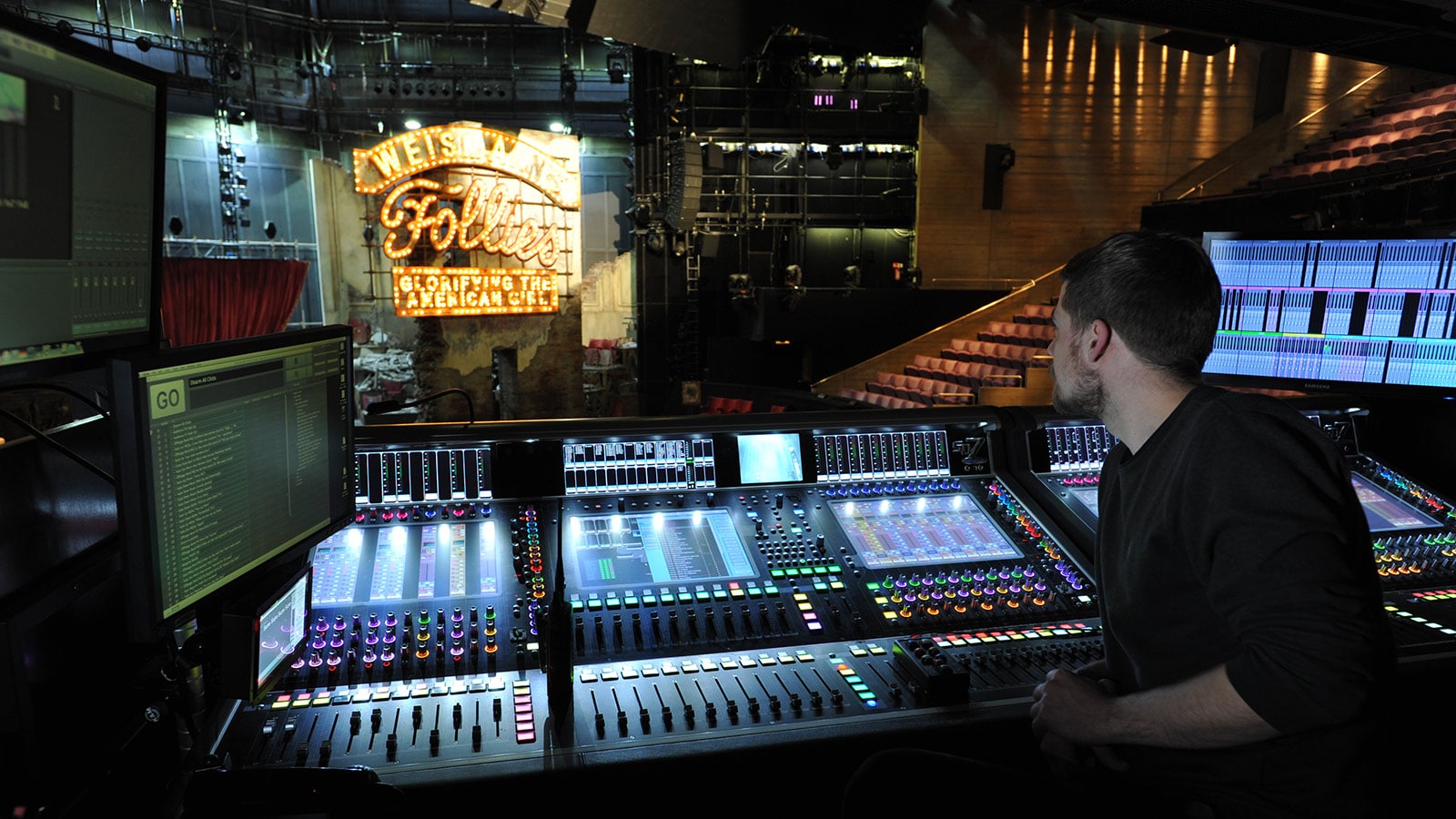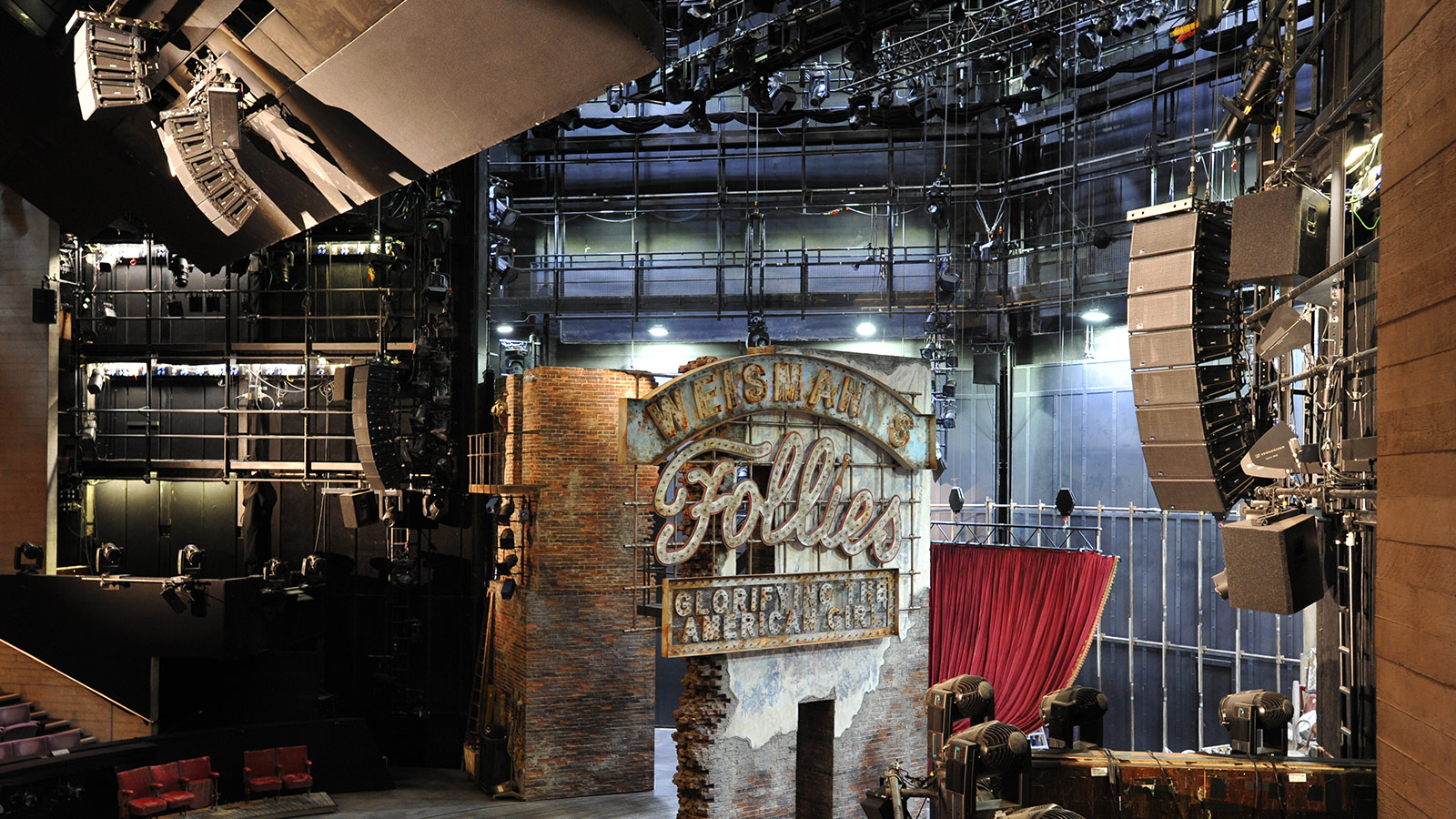 Closing in January following an extended run, a revival of Stephen Sondheim's Follies at London's National Theatre was showered with lavish praise by critics. Paul Taylor called it "jaw-droppingly great" in The Independent while Tim Bano of The Stage declared, "This isn't just triumphant, it's transcendent." To ensure dialogue and music were carried to the audience with pristine clarity and undiminished impact, the production relied on a Meyer Sound main reinforcement system – anchored by LINA and LEOPARD line array loudspeakers – supplied by Autograph of London.
Tasked with balancing subtle transitions between the dramatic and musical elements in Follies was distinguished sound designer Paul Groothuis, who has credits on more than 120 productions at the National Theatre alone. Assisting in system design and specification was his associate, Alex Caplen, who also serves as sound & video supervisor for the 1100-seat Olivier Theatre, the specific stage (the National Theatre has three) hosting the production.
Follies marked the first pairing for LEOPARD and LINA in UK theatre, and Groothuis quickly found it an ideal combination. "I was flattered to be among the first to use the LINAs," he says, "and they turned out to be remarkable loudspeakers – really extraordinary, right out of the box. I trust Meyer completely in that regard, in that I can put up a system and go into tech without having to change it round first. With some other brands you have to work quite a bit to make them sound right before you can go into rehearsals."
Groothuis also was pleased to find that these smallest members of the LEO Family share common characteristics of the similarly sized M'elodie and MINA systems he'd used over the past decade. "What brought me over to Meyer systems was the clarity and the headroom. In earlier days, with less amplification, that wasn't as critical. But the culture has changed, and with people accepting higher levels it's important to know the system will retain a natural vocal clarity as the volume goes up. I trust the Meyer boxes to do that."
His associate, Alex Caplen, was similarly pleased with the clarity and linearity exhibited by the main arrays, configured here as three LEOPARD over six LINA in the center mono cluster with LEOPARD side arrays of eight each.
"This was my first outing with LINA and LEOPARD and a bit of a leap of faith," he confesses. "But at first hearing I was amazed at the power it could deliver in such a small form factor, and the linear response of the system as a whole was staggering. There was something rather satisfying when looking at the flat EQ display from the Galileo [loudspeaker management system]. More than once I did a double take, thinking we'd lost the EQ…but we just didn't need it!"
Rounding out the main proscenium system were six 900-LFC low frequency control units, four UPJ-1P loudspeakers and twelve MM-4 loudspeakers as fills, plus four legacy MSL-2s for boosting the orchestra. The permanently installed fill and surround systems utilize additional loudspeakers from other manufacturers.
"The MSL-2s have a unique character, and for me nothing can replace them," says Groothuis. "They work incredibly well at maintaining the tonality of the orchestra, but I also blend the orchestra into the main left and right arrays for better clarity and distribution."
Groothuis also acknowledged the important role of Autograph as a collaborator in the system installation and tuning. "Autograph is always my preferred supplier in the UK, my first port of call. They were brilliant here, as they always are."
Taking the helm for Autograph on the project was Chris Austin, who shared the enthusiasm for the small LEO Family loudspeakers. "LEOPARD and LINA work well together as they seem to have come out of the same mold. What really stood out for me was how little we had to do to get them ready. I know that's what Native Mode is supposed to do, but it wasn't just 'usable' or 'alright'. It was fantastic right out of the box. I know quiet time is precious in tech week and getting a head start like that almost felt like cheating."
Also contributing to the sound success of Follies were the full audio staff of the National Theatre under the direction of Head of Sound & Video, Dominic Bilkey, and in particular the Sound No.1 for the show, Jonas Roebuck.
Other key audio gear used for Follies included a DiGiCo SD7T mixing console with EX-007 fader extension, Sennheiser wireless microphone systems, and a mixed complement of Sennheiser and DPA microphones.
The Follies production was directed by Dominic Cooke and was broadcast live to cinemas worldwide as part of the NT Live program. For the middle part of the run, Follies shared the Olivier Theatre stage in repertory with the play St. George and the Dragon, Sound Designed by Chris Shutt. The same proscenium and vocal systems were used for both productions, except the MSL-2 loudspeakers which were removed for the play.
The largest of National Theatre's three stages, the Olivier Theatre is modelled on the ancient Greek theatre at Epidaurus. It is named after the National Theatre's first artistic director, legendary actor Laurence Olivier.
In 2016-2017, the National Theatre (NT) staged 26 productions and gave 2,585 performances at the London South Bank venues. The NT's award-winning programme had a UK paying audience of 1.8 million, 400,000 of which were NT Live audiences.
You must be logged in to add more than four items to your comparison list.
Register today!
With a free My-iQ account, you'll be able to keep track of the latest updates and event notifications from your favorite AV manufacturers, manage your own projects and discover new pro-AV products.
Thank you!
Someone will be in touch with you shortly.
McCann Systems
290 Fernwood Avenue
Edison, NJ 08837
USA
1-888-414-3806
www.mccannsystems.com
Request more information from a dealer near you
Request more information from a dealer near you