Pro AV Catalog
Manufacturers
PRODUCT CATEGORIES
Matching Keywords
Model Numbers
Meyer Sound Supports Groundbreaking Conference on Sound in Architecture at MAAT Museum in Lisbon
Posted on Wednesday, April 11, 2018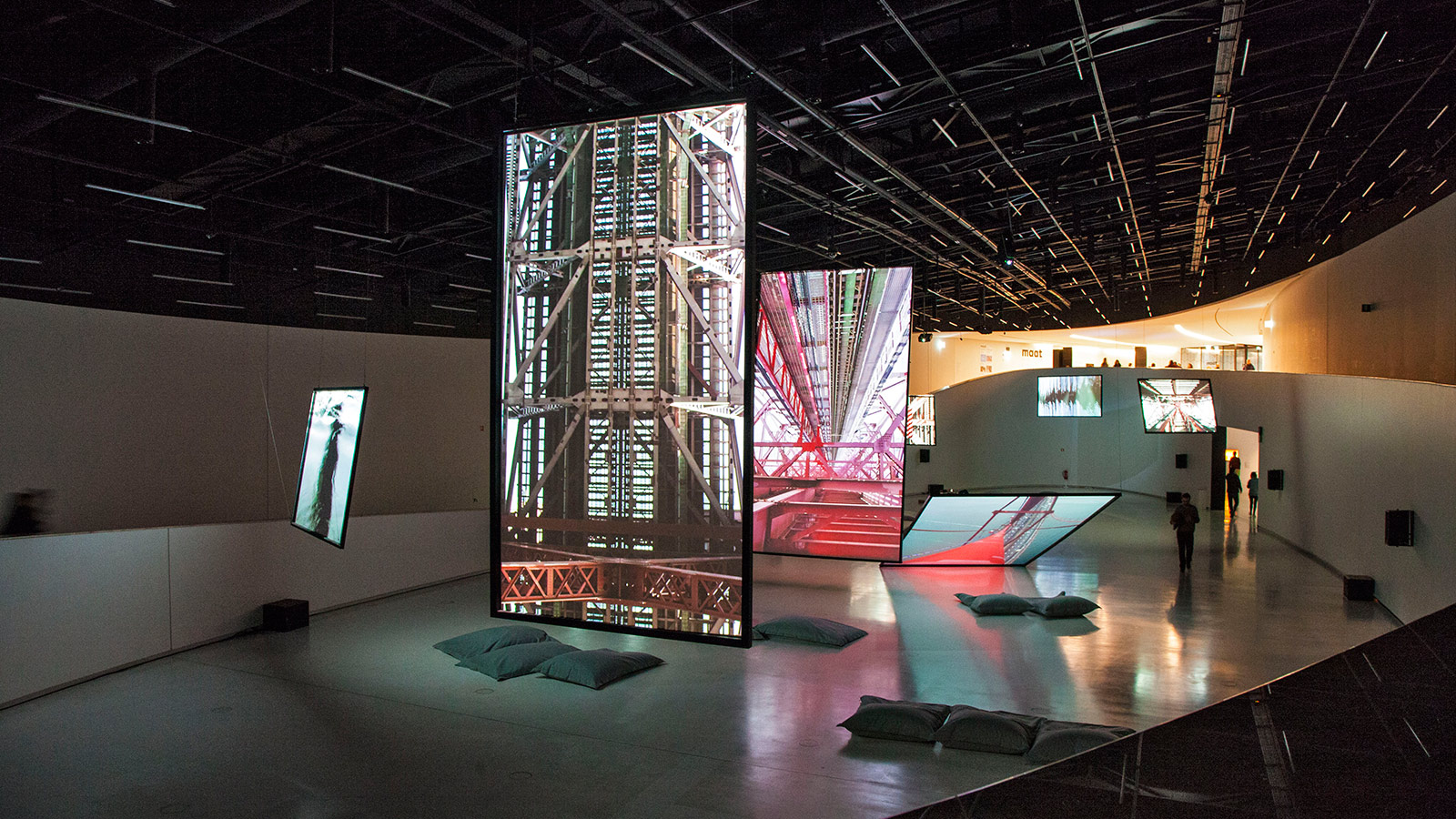 Meyer Sound was a key collaborator for RESONATE: Thinking Sound and Space, a groundbreaking conference that brought together architects, acoustical engineers, sound artists, journalists, museum directors and students for a unique and wide-ranging exchange of ideas and inspiration. Focused exclusively on the role of sound in architectural space, the full-day program was co-organized by reSITE, a Prague-based nonprofit platform acting to improve the urban environment, and MAAT (Museum of Art, Architecture and Technology) in Lisbon, Portugal that hosted the event.

In welcoming more than 320 participants to the February 12 conference, MAAT Director Pedro Gadanho noted that RESONATE provided an extraordinary opportunity to re-think fundamental concepts of architecture by incorporating a broader understanding of how sound affects our lives.

"Architecture has tended to be considered a visual culture," observed Gadanho. "Because of the media, and because we look at architecture through our eyes, we forget that it's a much more tactile experience. We tend to forget that sound is really fundamental for your comfort, for your joy, and for your experience of a building. So from the point of view of the artist, and from the point of view of architects, we are developing spaces that relate to the consideration of sound, specifically, and the acoustic experience as well."

In his keynote address, The New York Times Architecture Critic Michael Kimmelman elaborated on his much-discussed recent Times piece, "Dear Architects: Sound Matters." Kimmelman maintained that the sense of hearing is too often overlooked in building design. "Why is sound not considered a more important element when we think about buildings, and in your case [as architects] when you design them? It is one of these senses we are constantly feeling, like sight and smell. Sound is something that one experiences in every room we are in, in every space we occupy."

In a panel discussion entitled "Acoustics & Architecture: Past, Present and Future," British architect Michael Jones of Foster + Partners described how sound and acoustics were leveraged to improve creative communication at the new UK headquarters for Bloomberg. Jones first noted the classic, restrained exterior of the structure, then continued: "Conversely, on the inside where sound takes over, the spaces get to be very dynamic, and dynamism is about the culture of Bloomberg — it's about making people come together to engender a culture of collaboration."

Jones then related how Meyer Sound's Constellation active acoustic system furthered this goal in some larger meeting spaces. "Instead of needing these awkward microphones and passing them around the audience, in this case the room does everything for you. The acoustic in the room is modified electronically, and it means we can have…an intellectual exchange with the kind of natural interaction we were looking to achieve."

Meyer Sound Constellation Project Director John Pellowe reviewed a number of other Constellation systems in use worldwide — in concert halls, universities and multi-use event spaces, as well as other corporate installations — but acknowledged that the electronic technology still depends on a complementary physical space. "We still need to collaborate with architects and acousticians," he emphasized, "because if you put these technologies in a bad space, if the base acoustic isn't designed to accommodate the enhancements, then you have a useless base. So we will continue to work with architects to build better spaces as time goes on, and as we learn each other's needs."

In a retrospective of recent works, architect Elizabeth Diller of Diller Scofidio + Renfro presented a multi-media review of a varied array of structures, installations and events with sounds — musical or otherwise — as an integral element. In relation to The Shed, a radical new performance space in New York, she recalled an insight from a founder of The Talking Heads rock group. "David Byrne talked about the relationship between sound and space, whether liturgical music and gothic cathedrals or rap music and the booming sound filling the interior of cars. He thinks of a musical composition as filling the particular space it is going into. So I hope this new performance space produces new musical opportunities and interceptions between the visual and performing arts."

In closing the conference, Norwegian architect Kjetil Trædal Thorsen of Snøhetta used the new Oslo Opera House as a jumping-off point for a wide-ranging look at the core creative processes that govern the intersection of sound and space. "Listening puts your body into the center of things," he observed, "while looking at something puts you on the periphery of things. Only with the combination of being in the center and on the periphery at the same time can you locate yourself in space. So music is all about being there, like with architecture, but it's also about locating yourself in relation to something else."

Prior to the official welcome, participants experienced Shadow Soundings, the latest work by renowned sound artist Bill Fontana, which has been installed at MAAT's Oval Gallery since last October.

Other presenters, panelists and artists contributing to RESONATE included acoustician Raj Patel of Arup, composer and sound artist Miguel Álvarez-Fernández, sound artist Bernhard Leitner, visual artist Xavier Veilhan, and architects Louis Becker and João Santa-Rita.

Located alongside the Tagus River and opened in late 2016, Lisbon's striking new MAAT building was designed by Amanda Levete Architects of London. It adjoins an existing museum structure, originally a century-old electric power plant. The MAAT complex is owned and operated by Portugal's EDP Foundation.

Founded in 2011 by landscape architect Martin Barry (who served as overall host for RESONATE), reSITE is a non-profit platform supporting the understanding and synergies of architecture, urbanism, politics, culture and economics.
You must be logged in to add more than four items to your comparison list.
Register today!
With a free My-iQ account, you'll be able to keep track of the latest updates and event notifications from your favorite AV manufacturers, manage your own projects and discover new pro-AV products.
Thank you!
Someone will be in touch with you shortly.
McCann Systems
290 Fernwood Avenue
Edison, NJ 08837
USA
1-888-414-3806
www.mccannsystems.com
Request more information from a dealer near you
Request more information from a dealer near you