Pro AV Catalog
Manufacturers
PRODUCT CATEGORIES
Matching Keywords
Model Numbers
Meyer Sound Is Interactive, Immersive and Inviting at InfoComm 2018
Posted on Wednesday, May 16, 2018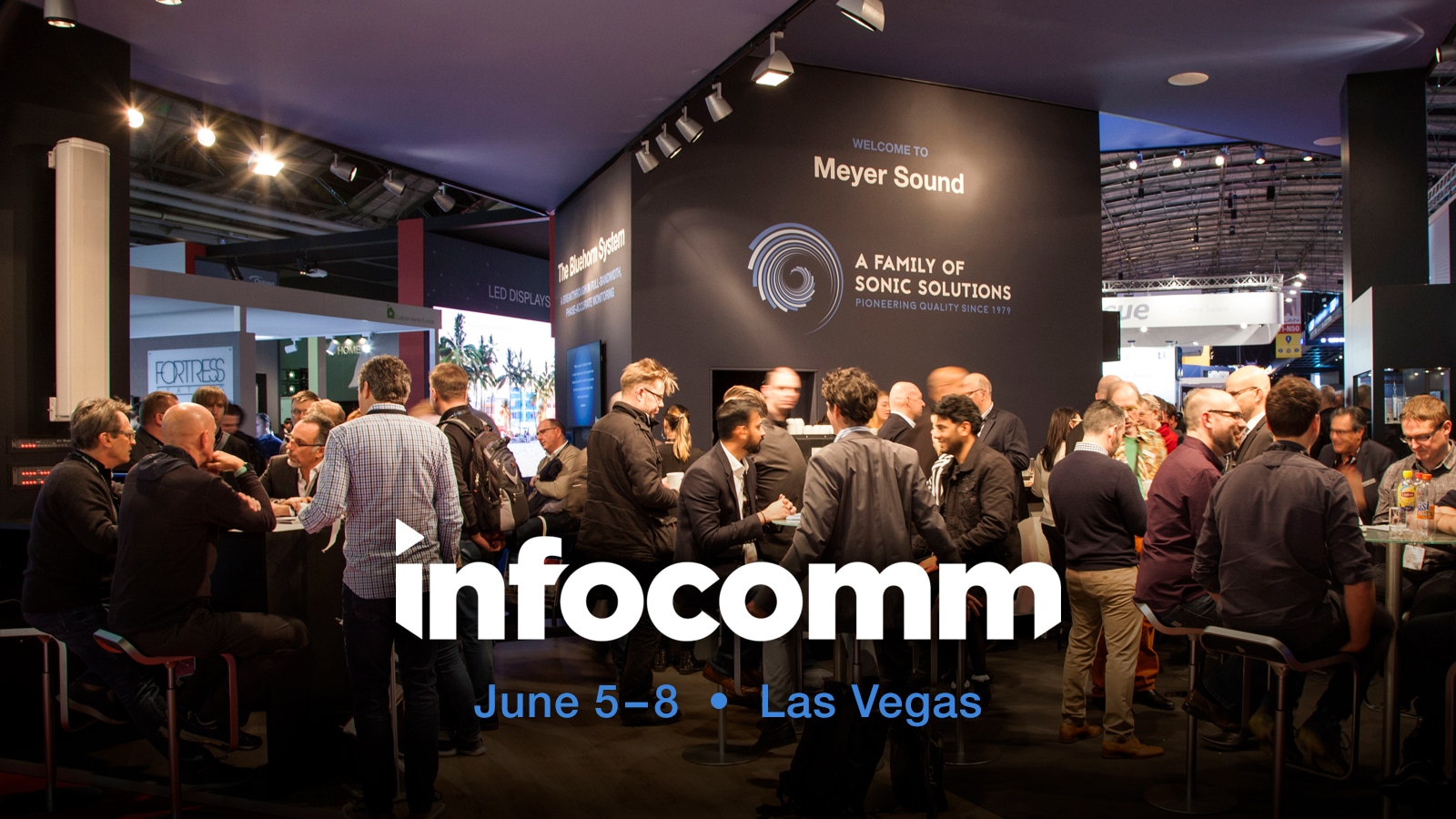 Meyer Sound will offer a varied menu of attractions at InfoComm in Las Vegas, including stepped-up display technology at the booth, daily raffles for tickets to Cirque du Soleil shows, and a "Sonic Lounge" for relaxation and conversation. The Meyer Sound exhibit floor booth is C1356 while the Sonic Lounge holds forth in room N110.
New to the booth this year will be "The Labs", a revealing interactive exploration of all that makes Meyer Sound unique among audio companies. Large touch-screen displays use animations, videos and exploded diagrams to explore the world of Meyer Sound manufacturing and reveal in striking detail the advanced technology inside the company's loudspeakers, with a particularly intriguing look at the inner workings of LINA, the newest and smallest member of the LEO Family of line array loudspeakers.
For more than 25 years, Meyer Sound has worked with the world's leading sound designers to pioneer immersive technology in resident and touring productions of Cirque du Soleil. Many of these groundbreaking developments are demonstrated nightly in Las Vegas, and attendees who wish to experience this wizardry firsthand can stop by the booth for a chance to win two tickets for same-evening performances of The Beatles' LOVE, Michael Jackson ONE, or "O". Drawings will be held at 4:00 on Wednesday, Thursday and Friday.
Off the show floor, the Sonic Lounge (N110) invites audio professionals to meet in a relaxing and convivial atmosphere. Low-level music will be playing from overhead Ashbyceiling loudspeakers while Meyer Sound sales and technical personnel will circulate to answer any questions.
Ashby loudspeakers will be on display at the booth as well, along with other members of the growing IntelligentDC line. Also featured will be the LINA line array, shown in different rigging configurations with the 750-LFC low frequency control element. And the ever-popular Tech Bar will provide direct engagement with the technologies inside the beam-forming CAL column array loudspeaker and the AVB-enabled Galileo GALAXYnetwork platform.
Intriguing and informative Facebook Live interviews will be held in the booth throughout the show, with guests including key Meyer Sound personnel, knowledgeable consultants and integrators, and high-profile end users. A complete schedule will be posted at the booth and on Meyer Sound's Facebook page.
You must be logged in to add more than four items to your comparison list.
Register today!
With a free My-iQ account, you'll be able to keep track of the latest updates and event notifications from your favorite AV manufacturers, manage your own projects and discover new pro-AV products.
Thank you!
Someone will be in touch with you shortly.
McCann Systems
290 Fernwood Avenue
Edison, NJ 08837
USA
1-888-414-3806
www.mccannsystems.com
Request more information from a dealer near you
Request more information from a dealer near you