Pro AV Catalog
Manufacturers
PRODUCT CATEGORIES
Matching Keywords
Model Numbers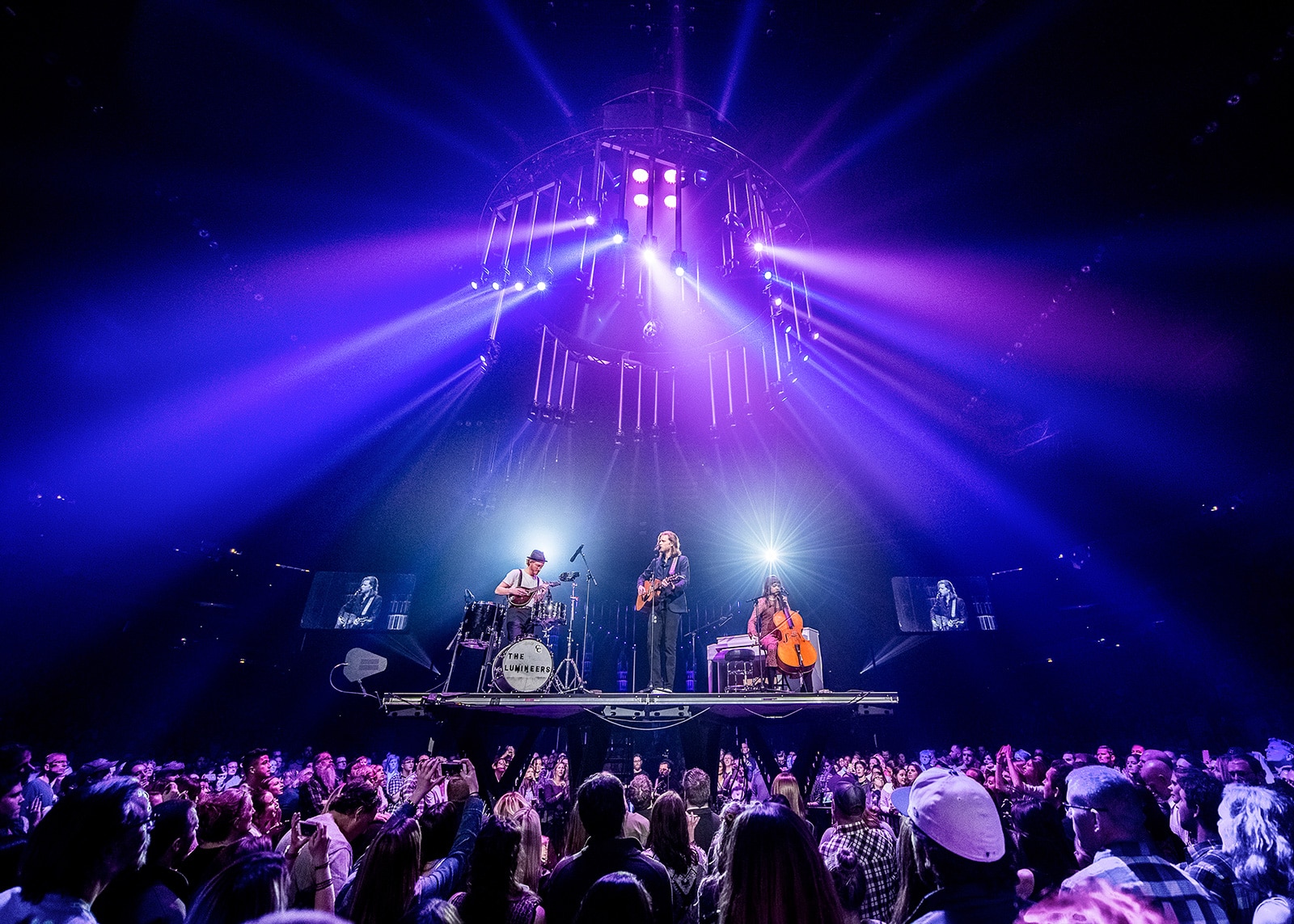 These days, almost every band in the Billboard Top 100 charts uses synthesizers and electronic manipulation to produce sleek, danceable pop music for the masses – but not The Lumineers. "Ho Hey," the band's debut single in 2012, rose quickly to ubiquity, with simple acoustic guitar and shouted "ho"s and "hey"s demanding attention from the first strum. The band makes music showcasing unmediated human emotion, using nothing but strings and singer Wesley Schultz's raw voice to cut through the white noise.
Currently touring the world in support of their sophomore album, Cleopatra, The Lumineers have been playing larger venues than ever before, supported by a Meyer Sound LEO Family system from Sound Image. According to Josh Osmond, the band's FOH engineer and system designer, it has been a smooth transition from a smaller LEO Family rig used on earlier tour legs.
"Moving up to arenas and scaling the size of the system to match has been seamless," he said. "Although we tripled the box count, the response of the LEO Family has remained as consistent as it was on a smaller scale and in outdoor venues. In arenas, I mix from nearly 130 feet from the stage, yet I still get the same clarity and presence as if I were 90 feet away."
Osmond is pleased with the way the system retains the natural rigor of cello, piano and other strings and percussive instruments when driven at rock levels. "Although this band has a folk/Americana image, the live show still needs to have a large sound while maintaining sonic clarity. With the LEO Family I get the power and impact of the show I am looking for while maintaining the natural sound of the sources coming from the stage."
System engineer Dave Shatto is similarly pleased with the predictable response in larger arenas when compared to the LYON linear line array loudspeaker main hangs used earlier. "Meyer has done an excellent job creating linear phase responses throughout the LEO Family via delay integration, so voicing between LEO and LYON has been relatively consistent from day to day," he said. "The additional SPL provided by the LEO allows us to throw to the 200-300 level while maintaining the spectral response of LYON as heard at mix position."
The LEO line array loudspeaker's long-throw capability is appreciated by Production Manager Sara Full. "LEO has helped eliminate the need for delays in most scenarios, including in some very large venues. That not only helps provide a more consistent audience experience, but also improves sight lines, allows us to get more fans in the venue, and reduces logistical hassles and expenses."
The Lumineers now fill amphitheatres and arenas, but their live show is rooted in where they came from: playing small houses in the Denver music scene. "When they came to the bigger stuff they still wanted that [smaller] feel," said Brad Galvin, the tour's monitor engineer. As a solution, they devised a "B stage" located in the middle of the audience at each large venue, where they could get 'up close and personal' for a few songs mid-show. Even with the drastic change in location of the band, Osmond has been impressed that the system never flinches. "Having a system with as smooth a response as this LEO Family system helps a lot in having that translate accurately to the audience," he said. "We're able to keep it at the same volume and the same system shaping and EQ from the main to B stage, and it translates smoothly from one to the other."
The LEOPARD line array loudspeaker, the smallest member of the LEO Family, has demonstrated its versatility on the tour, according to Sound Image Audio Crew Chief Cameron Whaley. "LEOPARD has been very helpful as the tour scaled to differently size venues. It's powerful enough to use as a main system when we've had extreme weight restrictions while still maintaining the sonic quality and impact of our show. As a side or rear hang complement to LYON, LEOPARD has no problem keeping up and makes our tuning easy with its very similar sonic characteristics."
The complete system includes 10 LEO over eight LYON per side for main hangs, 14 LYON per side for down stage side hangs, 14 LEOPARD per side for upstage side hangs, 32 1100-LFC low-frequency control elements (16 flown, 12 ground-stacked L and R plus four center), six LEOPARD for front fills, and a Galileo® loudspeaker management system.
The Lumineers are currently touring North America with dates available here: http://thelumineers.com/tour-dates/
You must be logged in to add more than four items to your comparison list.
Register today!
With a free My-iQ account, you'll be able to keep track of the latest updates and event notifications from your favorite AV manufacturers, manage your own projects and discover new pro-AV products.
Thank you!
Someone will be in touch with you shortly.
McCann Systems
290 Fernwood Avenue
Edison, NJ 08837
USA
1-888-414-3806
www.mccannsystems.com
Request more information from a dealer near you
Request more information from a dealer near you