Pro AV Catalog
Manufacturers
PRODUCT CATEGORIES
Matching Keywords
Model Numbers
Dierks Bentley Rolls with First AVB-Networked Meyer Sound Touring Rig
Posted on Thursday, September 7, 2017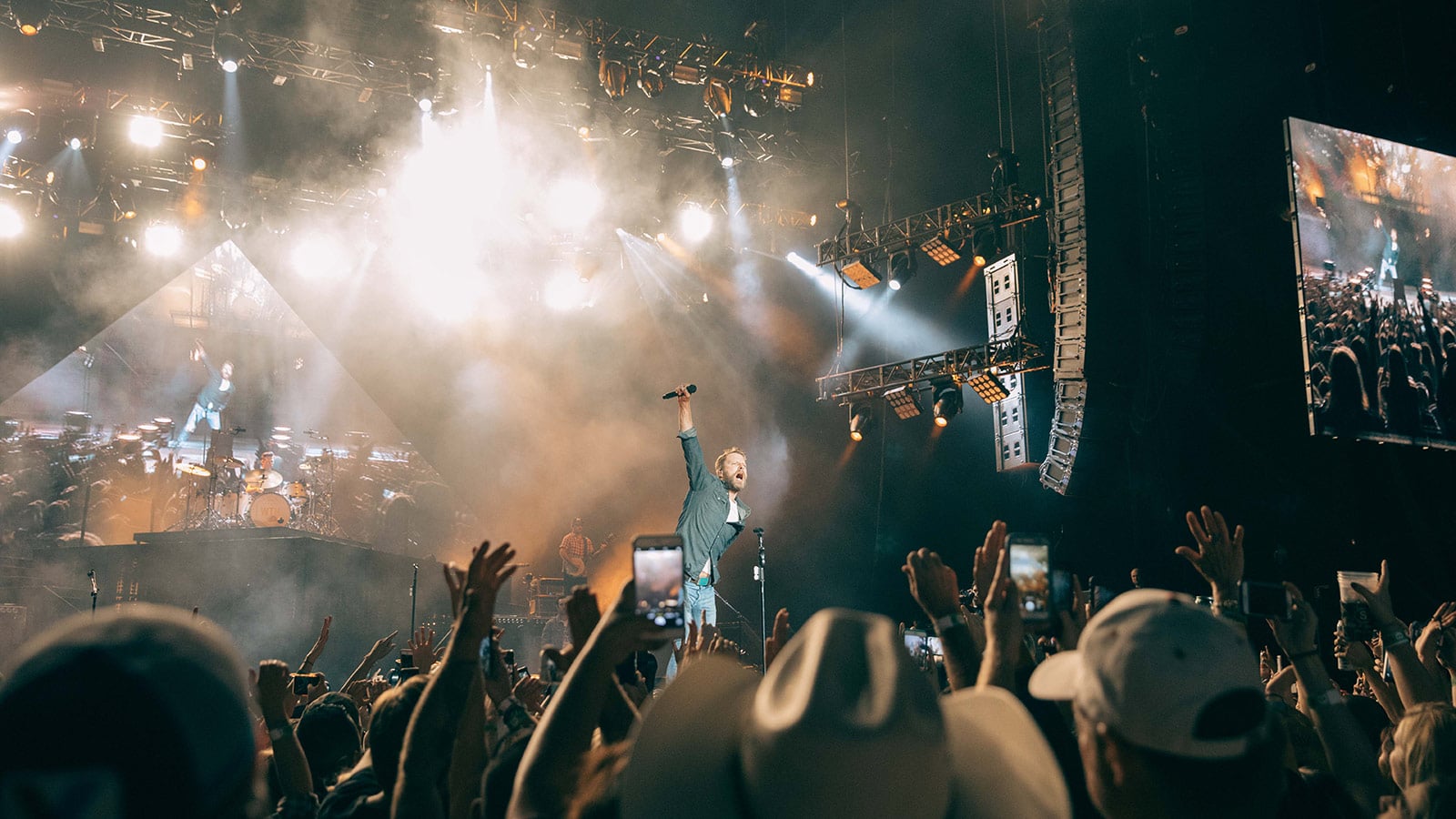 On his What the Hell World Tour, country superstar Dierks Bentley is packing arenas and amphitheaters across North America, energizing fans with rousing concerts while also setting a technical milestone. The Meyer Sound LEO Family reinforcement system powering Bentley's headline shows is the first on the road to be digitally interconnected by a Galileo GALAXY networked platform using the widely adopted AVB/TSN Ethernet-based networking protocol.
"On this tour I wanted to have more flexibility and more distribution options to the stage," says James "Pugsley" McDermott, who doubles as the tour's FOH mixer and systems engineer. "With our old setup we didn't have a one-box, one protocol solution. Now, with GALAXY and AVB, I have all my digital signals on a single fiber optic line and I have four more channels of analog backup. But the real selling point for GALAXY was the move up to the 96 kHz sampling and high bit-depth processing. The difference in sonic quality and dynamic range is huge."
Galileo GALAXY, Meyer Sound's first fully networkable loudspeaker processor, incorporates a new generation of FGPA processing with up to 64-bit resolution at 96 kHz sampling rate with a latency of only 0.6ms analog input to analog output. Processing and alignment tools include U-shaping and parametric EQ, cross-point delay matrix and improved delay integration.
Although he was first out of the gate using GALAXY's networking feature, McDermott was confident in the reliability of the new technology. "I decided to take it out on the road, beat the crap out of it, and see if it keeps working. It has. We have not had any issues with the GALAXY processors or the switches. We've never had to go to analog backup."
Comprising six GALAXY 816 processors – two at front of house and two each stage left and right – the Galileo GALAXY network platform is at the heart of an extensive LEO Family system supplied by VER Tour Sound of Nashville. For large arena and shed shows the left-right arrays are, per side, 12 LEO loudspeakers over four underhung LYON loudspeakers, with twin outfill arrays of 16-each LEOPARD line array loudspeakers. For bass impact, six 1100-LFC low frequency control units are flown in cardioid configuration per side, with four stacks of three 1100-LFC in cardioid on stage. Four UPQ-1P and four UPA-1P loudspeakers are deployed as front and corner fills.
This is Bentley's second outing accompanied by a Meyer Sound system, as his 2016 Somewhere on a Beach Tour was powered by a similar LEO Family rig, also supplied by VER. "The LEO rig is one of the easiest I've ever used to get up in the air and get going," says McDermott. "That's what really impressed me the first time we used it."
Also new on this year's tour is the replacement of LYON loudspeakers for out hangs with the more compact LEOPARD loudspeakers. "We needed a smaller hang to accommodate video," explains McDermott, "and I was initially concerned about going with a smaller loudspeaker. But when we get them up, locked in and tuned, they really do the job beautifully."
Working this year's outing alongside McDermott are VER assistant systems engineer Cody Seaver and PA tech Thomas McNabb who doubles as monitor engineer. The entire VER crew played an active role in implementing the AVB network integration.
Bentley's What the Hell World Tour launched in January in Dayton, Ohio and wraps up in November with a "one off" at the Choctaw Casino and Resort in Durant, Oklahoma, where a permanent Meyer Sound LEO Family rig is installed as the house system.
You must be logged in to add more than four items to your comparison list.
Register today!
With a free My-iQ account, you'll be able to keep track of the latest updates and event notifications from your favorite AV manufacturers, manage your own projects and discover new pro-AV products.
Thank you!
Someone will be in touch with you shortly.
McCann Systems
290 Fernwood Avenue
Edison, NJ 08837
USA
1-888-414-3806
www.mccannsystems.com
Request more information from a dealer near you
Request more information from a dealer near you